ITS would like to advise UQ staff of a recent issue with Apple AC Wall Plug Adapters.
What's the issue?
Apple has determined that, in very rare cases, the two prong Apple AC wall plug adapters designed for use in Australia may break and create a risk of electrical shock if touched. These wall plug adapters shipped from 2003 to 2015 with Mac and certain iOS devices, and were also included in the Apple World Travel Adapter Kit. To view the official announcement from Apple click here: http://www.apple.com/support/ac-wallplug-adapter/
How do I know if I'm affected?
Apple has provided the following images to allow users to identify which adapters are affected. Affected adapters have either 4 or 5 digits (not necessarily 4913), or no digits. Replacement adapters display a 3 letter regional code (AUS). If you are unsure about your adapter, please bring it to a specified exchange location to be confirmed.
Affected Adapter
Replacement Adapter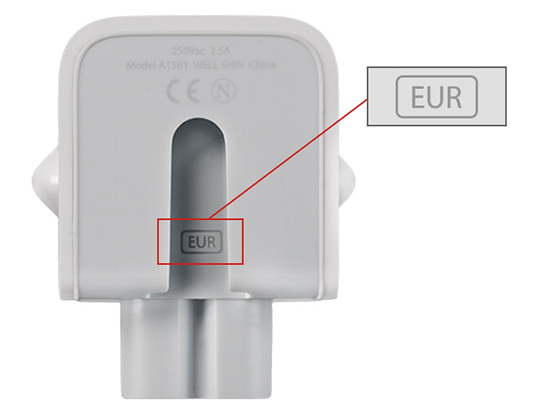 Please note that only the affected half of the adapter (shown below in red) will need to be replaced.
What should I do if my adapter is among those affected?
ITS will be available at multiple locations around the university to provide replacement adapters for staff. The Replacement Procedures are listed below:
Replacement Procedures
St Lucia:
Staff at St Lucia can visit Client Services at the front counter in Prentice Building (42). Staff are welcome to bring adapters in bulk to remove the need for all staff to attend individually.
Other Campuses and Sites
Please confirm with your local IT manager about the best course of action. If you are unsure who to contact, please send an email to help@its.uq.edu.au and ITS will be happy to assist.
This page will be updated regularly with locations around the university that staff can visit in order to have their adapter exchanged. For more information on this issue please consult the official support release from Apple by clicking here. If you have any questions or concerns please contact the ITS Service Desk at help@its.uq.edu.au or 336 56000.